This weekend was one of the hottest of the summer. So what do we do? Have a softball tournament of course. Kevin and his brothers played 5 games between 9am and midnight Saturday. The kids and I headed over for the afternoon, for some fun watching the game as well as some playtime at the park. Poor kids, they really wanted to play, but they were just baking in the sun. That certainly didn't stop this kiddo's fun.
When you're two years old, nothing makes a 95 degree day better than digging in the dirt.
Giant slides with Daddy and Sister aren't bad either.
Jadon wasn't the only one having fun. Micah discovered this bag toss game and loved every second of it.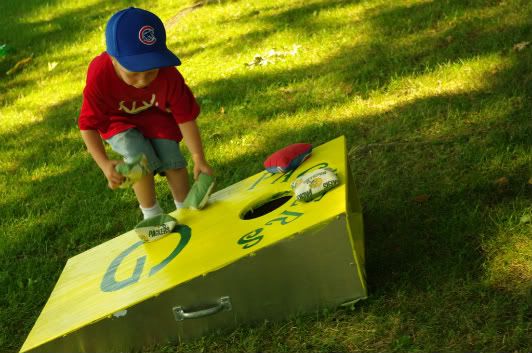 And of course, we can't forget the whole reason for the trip: for Daddy to get dirty!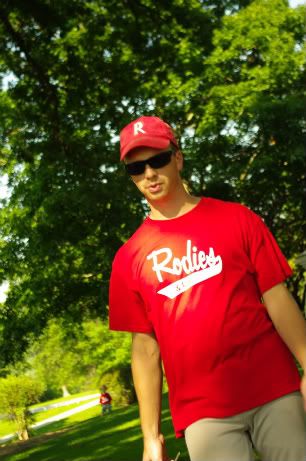 The kids and I left before the tournament was actually over. But what we saw was pretty fun. We stayed until the end of the fourth game. All three kids were incredibly well behaved, but I figured 9:30 was long enough to push my luck. The Rodies had managed to win every game up to that point, so it was pretty hard to leave, but the kids had to sing at church at 8 the next morning. We probably shouldn't have stayed that long.
Kevin called as soon as the last game was over at midnight. And the Rodies won!! Needless to say, they were pretty excited. This has been a pretty tough year for our guys so I was glad they pulled out a great win at this tournament. Let's just hope they do so well in the next couple of weeks. I've completely lost count of the number of games being played this week and next. Let's just say, it's a lot. But it's certainly fun to watch them win!