Remember the "Song of the Cebu" fromVeggie Tales?
Well I always thought they were fictitious animals. Apparently, though, they really do exist. Right here in central Illinois. Even Mommy has to learn something new once in a while.
There is a pumpkin patch north of us, about 45 minutes that I've always wanted to go to, but I've never gotten around to it. So last Friday Jody, and Megan and I had plans to take the kids finally. Unfortunately, the weather did not cooperate. So on Wednesday, after naptime, I packed up my troupe and took them myself.
They had a blast!!
This place has fun little petting zoo with, you guessed it, Zebus!!
They've got a fun playhouse, big enough for my girl, with slides for getting down from the house.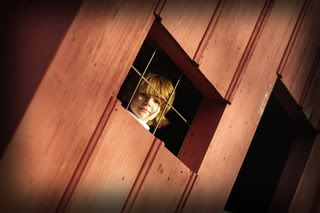 They've also got a corn maze that looks pretty cool, but it's kinda expensive and not something I want to do with four kids anyway. But they also have a "corn shock" maze just for the kids. All three of my biggies will tell you this was their favorite part.
Of course they have pumpkins, some of them are enormous!!
This bad boy weighed almost 900 pounds!!
It was really great to do something fun with the kids. I think they've been getting a little stir crazy because everything seems to be about the baby lately, so I was glad to get out with them. Of course we did bring little Isaac along and he stayed warm and content with Mommy in his snuggly little sling right up until we left. Then we had to document the day with a picture of all four of my kids together. I just think they are darling!