You know that old saying, "the best laid plans..." Well, that was how I felt today after my attempt at a photo shoot for my kiddos. The day was gorgeous: blue sky, lots of sun (not always great for photos, but there were enough clouds to make a go of it), warm enough for just a sweater and no rain. So I found some fallish sweaters for the big kids and went to town looking for something for Isaac (I had a gift card specifically for this purpose). We struck out at Walmart, so I used the gift card for family essentials and found a cute sweater for my guy at Target.
Then we headed off to the lake. I had done a shoot out there a week ago that the scenery was awesome for.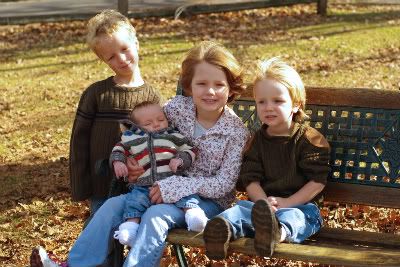 However, I forgot to take into account the torrential rains we had last week. Of course I think my kids are adorable so anywhere will work, right? Unfortunately, I didn't realize that the rain decimated the leaves on the trees and filled the lakebed with water. This shot was no longer possible. That was REALLY sad, because I love it and I wanted it for my kids.
But we made do.
I stood below this dock to take pictures last week, today the water came right up underneath it. There was no standing below it today. But Micah definitely seems to be at home on the water, doesn't he?
Here, we found a little bit of yellow still left on the trees, but JJ appears more interested in the stick he found than in any photo shoot. Maybe that's why I absolutely love this shot.
Chloe is certainly growing up to be a big helper.
She's such a big girl and she's really sweet to her little brothers (most of the time).
Isaac is getting big too, big enough he stayed awake and happy to sit for the camera with his big sister. Aren't they sweet together?
We had a great time out together despite the rough start. And it was a great day to be outside even without any picture taking. I hope we have a few more days like it this year before it gets any colder. I just love fall.