Last year I chronicled the
Fab Five
turning Five. Well, unfortunately these kids just keep insisting on growing up. Ilese turned six a couple of weeks ago, but before the big event, we did get a shot of all of them together as FIVE 5 year olds.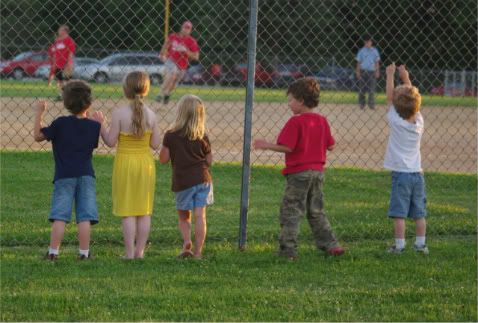 I have a shot of them turned around, but I thought this was much sweeter. That's Uncle BJ in the background rounding third.

Pretty soon Katy will be six and then a couple months after that, Micah and the twins. Five 6 year olds just doesn't have the same ring to it. But they will all be in school this year. Micah and Ilese are in 1st grade and Katy and the twins are in kindergarten. They just keep getting bigger don't they. I suppose if they have to do that, I'm pretty proud of the kids they're turning out to be.